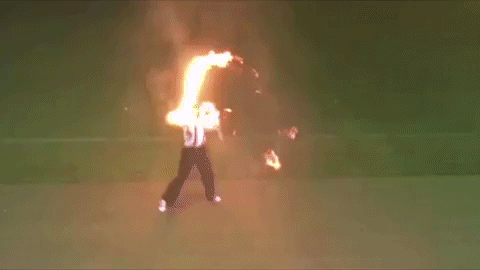 Used to create a massive and beautiful fire effect! It is an elegant cane for Lycopodium, to make massive fire effect to shock your audience.

Lycopodium is a fine dry powder made of a plant which is used for fire effects since hundreds of years. You need to sprinkle the powder into a flame. Upon contact it will catch fire and makes a massive fire circle around you.

First you need to apply the Lycopodium into the tube by the help of a funnel. Then you can apply the paraffin with a syringe. From that moment you set the Lycopodium into the tube, you have to keep the cane upside. Light the cane, than make sure that there is no person or any flammable material in about a 3-meter-diameter. If the space is safe, you can swing the cane strongly. The centrifugal force will bring out the powder which will ignite upon contact with the head. 

Features:
Amount of kevlar used: 0,4 m
Width of the kevlar: 45 mm
Weight: 400 g
Lenght: 85 cm
Price for 1 piece.

Incredibly dangerous prop. Use it carefully, don't use it in wind. Don't inhale during the explosion, because you may inhale the burning powder. 

Do not burn the prop to the end. If you see a blue flame it means you should immediately put it out (actually you should have done it some time earlier). The best way to extinguish the flame is to stifle it with a fire blanket. After usage soak the prop in the same oil you have been using before. Do not light it right after using - wait until it get cold. For the equipment to serve you for along time use only paraffin oil without alcohol addition. 

Warning! This product is dangerous! Due to the possibility of getting burned the equipment should be used only by people already having some experience in working with fire. Neither the shop nor the producer do not accept any responsibilities for damages caused by incorrect and inaccurate usage. 
Similar products or accessories
---
Customers who bought this product also purchased
Daniel G.
10/10
Prosty jak budowa cepa ale efekt zapierający dech w piersi widzów
by: 12-09-2021
Filip S.
10/10
Fajny rekwizyt- zwykła, grubsza pochodnia, z pustym miejscem na wsypanie Likopodium od góry, przez kewlar! Dobrze wykonany!
by: 20-10-2018
---
---